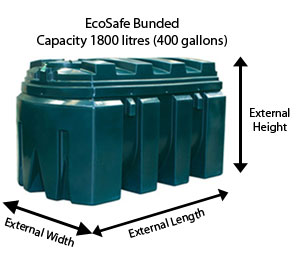 Domestic oil tank sizes are provided in litres or gallons and represent the capacity of the oil tank.
External dimensions are in millimetres or inches. Installers, architects and developers plan the space required for the installation of your tank using these measurements. If you are replacing your oil tank, you will also need to consider the size of base your current oil tank sits on. There are also regulations regarding the size and materials used for oil tank bases. (See below).
When choosing a tank, remember that rounded tanks can be wider across the middle than at the base. The base will require sufficient space to safely hold the tank plus a border. The siting of the tank will be determined from the widest outside edges.
EcoSafe bunded oil tank sizes range from 1,000 litres (220 gallons) to 9,000 litres (2,000 gallons). You can see our full range of EcoSafe bunded oil tanks by clicking here.
Talking Titan, single skin oil tank sizes, range from 1,000 litres (220 gallons) to 2,500 litres (550 gallons). Click here for Talking Titan details.
FuelMaster bunded oil tanks are for commercial vehicle fuel and come as standard with a pump, flow meter and automatic nozzle which are securely locked away behind a double locking door. Sizes start at 1,225 litres (270 gallons) and are available up to 5,000 litres (1,100 gallons). Click here for FuelMaster tanks.
In the UK, OFTEC provide the regulation sizes for oil tank bases and spacing from adjacent structures on their website: http://www.oftec.org.uk/consumers/domestic-oil-tanks-and-storage
Call our Belfast office to discuss your current tank or tank replacement needs: 028 9081 2723.
Oil Tank Replacement
If you are replacing an existing oil tank, the size of your base and tank position may determine the size of your replacement tank. We offer a no obligation inspection service. Our installers will check your existing oil tank for problems and advise on the installation of a new tank, if required.
Click here for more details of our oil tank replacement service.
You can also call us directly on 028 9081 2723 for further information or to enquire about our wide range of tanks.
Alternatively, email us at sales@knockbrackenoiltanks.com
We are based in Carryduff, Belfast, Northern Ireland.