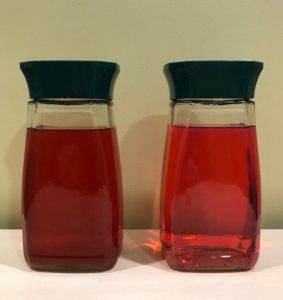 Fuel polishing is vital for diesel-powered emergency systems, it removes a critical point of failure: Fuel Contamination!
Engines and fuel systems need clean fuel to run reliably. If left untreated diesel is under constant attack from water, microbial growth and solid particulates.
Diesel fuel polishing is the maintenance process that stops water and contaminants infecting fuel while it's held in storage tanks. It increases generator reliability and longevity. By removing water, diesel bug and particulate contaminants from your stored diesel, our service ensures that your generators, pumps and plant keep running as long as you need them. It's the protection your fuel system needs. Although you probably already have a programme in place to maintain the diesel engines that provide critical power to your facilities, the fuel that feeds them is often overlooked.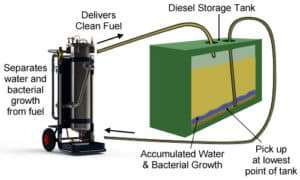 How Does Fuel Become Contaminated?
In most European countries diesel contains 93% petrochemical diesel and 7% biodiesel. The biodiesel blend reduces the environmental impact of burning fuel. However, biodiesel contains water.
it's present when the fuel's manufactured and biodiesels attract more water while they're stored.
The idea that diesel goes off is hard to understand. Contamination never used to be a serious problem. But since diesel was quietly replaced by a biodiesel blend it has become an issue.
Understanding the problem helps to clarify its impact on you.
Water is the enemy of clean fuel!!
• emulsified and free water encourages microbial growth (aka the 'diesel bug').
• water accelerates contamination from solids like rust.
Without proper maintenance diesel will degrade. "It's inevitable".
Fuel contamination is a common issue especially in tanks were the fuel is sitting unused for long periods of time, i.e. generator and marine applications.
Online filters only filter the fuel as it passes through from your storage tanks to your generators. Although they can remove debris they do nothing to clear the causes of the problem that lurk in your fuel tank. Unless the causes are treated, filtration systems will be under constant attack and can become overwhelmed.
As approximately twenty five percent of generator failures are dirty fuel related it is important to have an annual inspection of your fuel.
We can call with you annually to test the fuel and give you a report on the quality of the fuel in your tank.
If your fuel fails the test we can clean the fuel using our Portable cleaning and polishing machine.
Fuel Polishing Service
We can process approx 5000 litres of fuel per hour.
Our polishing system works at your tank, removing water, sludge ,microbial growth (a.k.a. the diesel bug) and solid particulates (such as dirt, soot and rust) before they reach any part of your engine.
Once complete, we certify that your diesel tanks are clean and your fuel meets the 18/16/13 level of cleanliness as defined by ISO 4406 and EN590 standards set by the Directive 2009/30/EC.
Our service cleans your stored fuel without requiring a diesel uplift, without requiring man-entry into your tanks and without losing half your stored fuel in the process. It's discrete, economical and effective. We will also test the fuel after the cleaning process to make sure the fuel has been cleaned effectively.
To arrange a fuel inspection or book fuel polishing call our Belfast office on 028 9081 2723.
Is My Engine Really at Risk?
Modern engine fuel injector nozzles can be as small as 2-3um (microns) in size, with a specific spray pattern for optimum efficiency. By comparison, a human hair is 70um in diameter. Bacteria is 10um, making solid contaminants and bacteria a real threat to the efficiency of your engines. Water in fuel can also combust at high pressure, potentially damaging your engine resulting in no back up generators or time off the road for your vehicles.