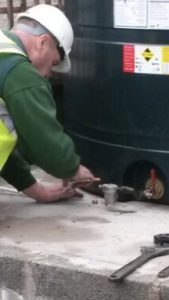 Knockbracken Fuels is an OFTEC registered heating business, with qualified oil tank installers for new installations and oil tank replacement.
To replace an oil tank you will need to have any remaining oil safely pumped out of the old oil tank. The tank can then be taken away for recycling. The base may need to be replaced to ensure it is safe for a new tank and the appropriate size. The position of the tank will also need to be checked to make sure it complies with the latest regulations.
Steel tanks or leaking oil tanks are usually replaced with a modern plastic tank. These low maintenance CE approved tanks come fully guaranteed and can save you money. To find out if you need a new tank, you can book a no obligation inspection of your existing home heating oil tank.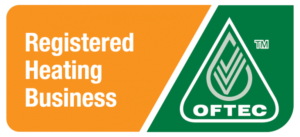 Oil tank replacement must be undertaken by a trained professional to ensure it is safe and correctly connected to your home heating boiler. Our oil tank installers will provide a no obligation inspection of your existing oil tank. If a new oil tank is required, they can remove old heating oil first by pumping it out, ensuring your property remains clean and safe. If necessary they will also build the appropriate base for your new tank, giving you peace of mind that we can take care of the complete installation for you.
The next step is to remove the oil tank and recycle it. Our installers will disconnect the tank, remove it from your property and recycle it as part of our replacement service. The new tank will usually be installed on a new base, connected to your home heating boiler and checked to ensure it is working perfectly.
There are a wide range of oil tanks for sale on our website. Tanks can be single skin or double skin (bunded). Bunded oil tanks are required by law in specific situations (see below). Our most common home heating oil tanks are Kingspan Titan (single skin) with Kingspan Ecosafe (double skinned/bunded) tanks becoming increasingly more popular.
Our engineers can also move your oil tank to a new location, allowing you to redesign your garden or construct a new building.
Finally we can fit a Watchman wireless oil tank meter. The Watchman is fitted to your tank and remotely sends the oil level to a small device in your home where you can see the oil level gauge without going outside.
Bunded Oil Tank Regulations
Older domestic oil tanks can be single skin design. Government regulations require a bunded (double skinned) oil tank if you store more than 2500 litres of oil or if the location of your oil tank is:
Within 10 metres of controlled watercourse such as stream, river etc..
Located where a spillage could run into an open drain or loose fitting manhole cover.
Within 50 metres of a bore hole or spring.
Where the vent pipe is not visible from the fill point. (IE. Extended fill points)
Any other Potential hazards individual to the site.
A tank must be sited 760mm away from a non-fire rated boundary such as a wooden boundary fence. If this isn't possible, please read the fire barrier protection details in the official OFTEC regulations:
Click here to download the official OFTEC oil tank regulations for Northern Ireland.
Book a no obligation inspection of your oil tank today. Call our Belfast office now on 028 9081 2723.
Oil Tank Problems?
If you are having problems with your home heating oil, your oil tank may simply need cleaning instead of replacement.
Our oil tank cleaning service can pump out the existing home heating oil (normally with no loss of oil). The oil is then filtered for water and debris before your tank is cleaned and the oil pumped back into your tank.
For a no obligation inspection of your tank, call us now on 028 9081 2723.