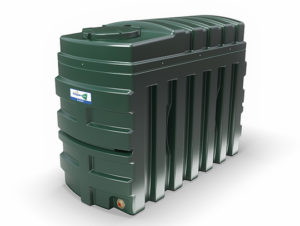 Bunded oil tanks are available in a range of capacities, sizes and styles. Our Kingspan Ecosafe bunded oil tanks are designed for domestic oil tank installations and commercial installations. Their range of sizes and colour makes them ideally suited for homes and gardens.
For commercial bunded fuel tanks, our FuelMaster oil tanks come in a wide range of sizes with fuel station options.
Always look for CE marked plastic bunded oil tanks. All of our Ecosafe and FuelMaster oil tanks are CE marked.
Ecosafe bunded oil tanks are available from 1,000 to 9,000 litres but domestic oil tanks are usually 1000-2500 litres in capacity (220-550 gallons). On the right you can see a sample bunded oil tank. These are the modern plastic tanks with a double skin (bund). The bund must hold 110% of the contents, allowing for spillage and containment if the tank should break. Tanks over 20 years old should be inspected as soon as possible. Ecosafe tanks come with a 10 year guarantee.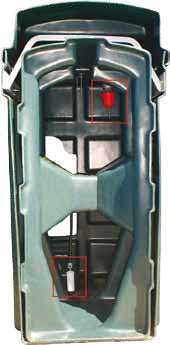 Inside this Ecosafe bunded oil tank, you can see the main oil storage area and the second skin with additional capacity in case of a leak.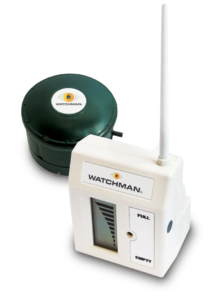 All oil tanks in the EcoSafe range come with a factory fitted Watchman Sonic oil level gauge (see right). The sensor is fitted inside the oil tank and transmits a signal to the oil level gauge display which simply plugs into a wall socket. You can then see the oil level without leaving the house.
Watchman Sonic oil gauges come with a 12 months replacement guarantee, have low power consumption and can transmit up to 200 metres.
You can browse our Ecosafe bunded oil tank range here and our commercial bunded oil tanks by FuelMaster here.
To discuss your requirements with our trained staff, call Belfast 028 9081 2723.