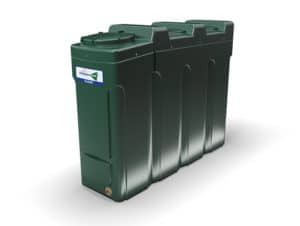 EcoSafe Oil Tanks by Kingspan are a bunded (double skinned) home heating oil tank range, ideal for domestic oil tank installation and commercial premises. Their polyethylene double skin means they safeguard properties against potential oil spills or ground contamination.
With a 10 Year Guarantee, factory fitted Watchman Alarm oil gauge (see right) and installation by our OFTEC registered installers, the EcoSafe bunded oil tanks are the ideal solution for your home or business.
The Watchman Alarm oil tank gauge wirelessly transmits your oil level up to 200 metres (no wi-fi or Internet connection is required), making it easy to keep an eye on oil levels without leaving the house and helps prevent oil theft. It also comes with a 12 month replacement guarantee.
The alarm transmits the level of oil remaining in the primary tank to a receiver in your home. The receiver will release an audible alarm when there is a dramatic drop in the level of oil or when oil levels run low.
The EcoSafe oil tank range starts at 1,000 litres and goes up to 9,000 litres. Domestic oil tanks are typically between 1,000 litres and 2,500 litres in size. For more information about oil tank sizes, click here.
If you are replacing your existing oil tank or simply moving it, have a look at our oil tank replacement services page for details of our oil tank inspection and maintenance services. You can also chat with a member of our team about your requirements on 028 9081 2723.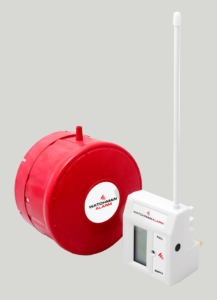 EcoSafe Oil Tanks
Ecosafe oil tanks are one of the market leading choices for domestic tank installation. Every tank includes a SpillStop Overfill device fitted as standard ensuring your tank doesn't go over 95% full. They also include a Watchman Alarm and they are 100% recyclable at the end of their life. Top and bottom outlet options are  available, making them versatile for a wide range of installation positions. Each tank comes with a unique gate valve and filter supplied as standard. Our installation engineers will ensure your oil tank is correctly sited and connected for you.
The EcoSafe oil tanks have a ten year guarantee and one year guarantee on equipment. They don't rust and don't require painting so the maintenance is minimal.
With no external sight gauges (a clear tube containing a floating ball on the outside of the tank to show oil levels), the Ecosafe tanks have fewer potential leak points. External gauges are also prone to accidental damage, vandalism or failure.
To speak to our team about replacing or installing an oil tank, call Belfast 028 9081 2723.
Please see our EcoSafe Oil Tank Range below:
To speak to our team about replacing or installing an oil tank, call Belfast 028 9081 2723.